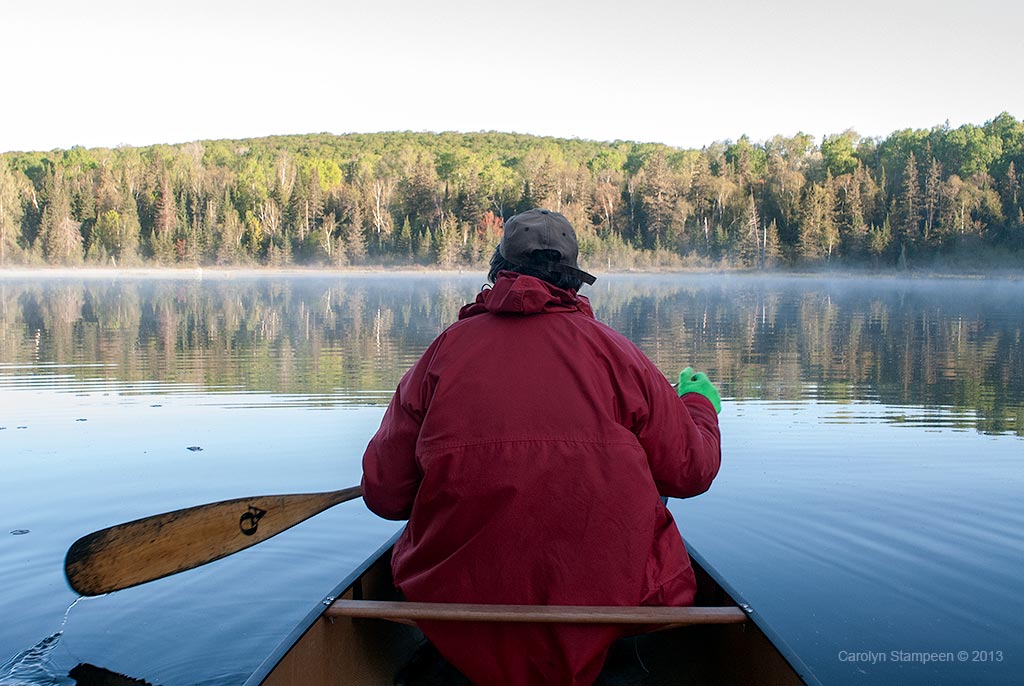 "Thanks for not killing me," the fellow said gratefully as we packed our gear into the car for our trip back to Toronto. We had just spent 4 days/3 nights interior camping in Algonquin Park. It was the windiest, coldest camping trip we had ever done and he had pushed himself to help me do something I had wanted to do but couldn't have done myself.
It all started with me wanting moose and outdoor footage for a project I am working on. I thought early spring would be amazing: newly-unfurled leaves, blossoms, fresh and bright new growth, with birds newly migrated in or still moving through to summer grounds. There seemed to be a lot of potential for great backgrounds for video and photography. That sounds amazing, doesn't it? The fellow looked at me with a long face when I first brought the trip up, then agreed and signed onto the little adventure. Who doesn't need an adventure from time to time?
It had been a long time since we had had a wilderness adventure — too long — and I thought that it would be easing back into things by doing a lake that required no portaging, just packing our camping and photography gear into a canoe and paddling for the day to get to our hoped-for campsite. Lake Opeongo is a large lake in Algonquin Park, just off of highway 60, and our destination was right beside a river that looked promising for moose sightings. Nice and simple trip. Yep, that was the plan. Nature, in her wisdom or at her whim, had other plans. After about 5 hours of paddling against stiff headwinds and whitecaps, it was time to stop for a break, to rest and warm up. We pulled into an empty campsite and ended up setting up camp for the night, choosing to not push bodies unused to paddling.
Some dinner and wine, staring out at a view that really couldn't be rivalled, we thawed and got into camping mode.
We broke camp early the next morning, packed up the canoe and continued on our way. The wind didn't subside, so the water never flattened, resulting in a morning calm that wasn't calm at all. It was much better than the previous day, though, and we tried to make good time before the wind really had a chance to start back up. Which it did, of course, before we got to "our" campsite. We passed by many amazing photo ops, but my cameras remained in the Pelican case, safely protected from the waves crashing over our bow. By the time we finally made it to our intended site, we had been again fighting white caps and strong winds. But we made it!!! And while my feet were wet, our gear was dry.
Our new little home away from home was a cosy little site with a built-up stone fire pit, and grill and logs left behind by a previous tenant. There was an almost flat area for our tent, it was sheltered, along a tiny little bay right next to the 'moose river.' Out of the wind, we were able to warm up under the sun, then set up our home.
While waiting for the winds to calm down, making paddling a more pleasant, and safer, activity for overworked muscles, I wandered around following a few animal trails that led from our campsite. I found a magical little clearing that was floored with white moss, another area next to the water that had some beautiful flowers. Trees were in bloom, lichen grew from branches and on rocks, woodpeckers were knocking against old trees, warblers and other birds were singing, competing with the sound of the wind in the treetops and the crashing of the water against the shore.
The water calmed down a bit after dinner, so I went out for a short paddle to check out the top part of the river. It looked like prime moose country — lots of water lilies, and green vegetation along the shoreline.
The next morning, fellow and I dressed in all our layers and went out for a paddle down the river to check it out more fully. We quickly saw a moose, which disappeared into the woods before we were able to point a camera, and there were loons, mergansers, cormorants, lots of signs of beaver, and breathtaking scenery — so many shades of green mingled with different blooming colours of different trees!
We met another couple paddling into the river as we headed back to camp for lunch. They were the first people in a canoe that we had seen since we had set out. As we ate lunch, which felt like a feast, and waited for the whitecaps to subside again, we noticed a water taxi (I realized these existed AFTER we had battled those waves!) came to the larger island shown above a few times over the next couple of hours and the second time it actually entered the river, which had signs telling motor boats to stay out. It was in there for some time. "Hmmm," we thought, "Did something happen to the couple we had passed in the river?" It seemed a good guess that the taxi was there to meet those canoeists given the amount of traffic we had seen in the area since our arrival.
The whitecaps subsided and we headed out again to investigate the area. When the winds came back up, it was time to head back to the campsite to give our bodies a break. As we hit the island in front of our site, I saw a sight that caused my heart to skip a beat: there were people walking around our campsite! We had left some gear in the tent! Never in all the more than decade in which we used to regularly camp in Algonquin Park had we ever seen anyone intrude on our home away from home. While privacy seems to be disappearing from the real world, canoe campers seem to be a pretty respectful lot — friendly when we encounter each other in our canoes or on portages; respectful of privacy on campsites, more so the further we paddle from launch areas. (Folks wanting to party in the great outdoors tend not to travel in very far.)
As we landed, we discovered the intruders to be the couple we had passed in the river. They had gotten lost and when they finally made it out of the river, they landed at our campsite for a break since it was the closest safe area to hit the shore. They may or may not have eaten our bread, but nothing else was missing or touched and they seemed like a nice couple — originally from New Zealand, living in Vancouver, camping for 5 days specifically to see moose. Until this day, they hadn't seen a single moose, but made up for it by seeing 8 during their trip down the river! I guess the critters had been waiting for us to leave. The couple wondered if we had a phone, but we explained that it didn't matter as there was no signal that far into the park. The water taxi came back, we flagged him down, and, as expected, he was relived to see them. This was his last pass before notifying the park rangers of lost canoeists.
That's when we had a bright idea: why spend the next day paddling back if we could enjoy more time on the river, increasing chances of great photo ops? Apparently there was paperwork needed with this request, but Colin, the canoe taxi driver, had a pickup close by in a few hours, so would bring it with him to help us out. Good to his word, he showed up at the appointed time, and it was official: we could enjoy an extra day in the park and get a lift out mid-afternoon. "By the way," Colin mentioned as he was easing the boat off of our beach, "if you're interested, there are a couple of moose in the bay (at the mouth of the river)." Interested?! We were back in the canoe for another trip down the river! We had only been waiting for the travel arrangements to be made before heading out again and the timing had to be a great omen. It was. Over the next 4 hours, we saw 8 moose.
It was a challenge shooting in a canoe. The water was far from calm, with gusts of wind making things difficult and, at times, unpredictable. It meant that I couldn't shoot as many stills as I would have liked, as my main goal was to come away with video, which the fellow was shooting from the front of the canoe. It was my job to make that as easy as possible for him. Sometimes we were able to lodge the canoe tightly enough in grass along the river to make things easier; other times, the wind had other plans for us and extra challenges were thrown in.
Then there was me shooting with the D200, which I hadn't used in years. It was easy enough to pick up again, but a camera is like an instrument: when you become familiar with it, you don't need to think about how to operate it — everything has become instinct. A few instincts from my current camera, which the fellow was using to shoot the video, had me inadvertently changing camera settings on the D200 without realizing it, with the result that I lost some potentially cool shots when I was able to actually shoot.
Winds usually calm early in the morning and early evening. Finally, the lake remembered this piece of information and the waters flattened. With the exception of the New Zealanders, we hadn't seen anyone else in canoes on this part of the lake and it was with a bit of a start that we heard people talking next to our campsite. A couple of women and a dog were making a late evening trek into the river. With light falling fast, one hopes that they had a bright light guiding them back to their own campsite. We did hear them go by again sometime later and heard no sounds of distress on the lake after that, so apparently all was well.
For the first night of our trip, the wind was silent. As we lay tucked cozily inside our warm sleeping bags, we heard the sound of the spring peepers for the first time. With no wind, it had warmed up enough for the frogs to feel up to singing. A hermit thrush serenaded us, the world was at peace. Until…
As we were drifting off, there was a loud splashing of something large running through our little bay, charging into our campsite, stopping and walking around a bit, deciding that something felt off and then crashing through the brush into the woods, as if in another panic. We saw the moose tracks leading from the beach the next morning, confirming the identity of the crasher. After that visitor, something else had checked out our site. Smaller than a moose, based on its breathing height, it treaded quietly, sniffed around a bit, came close to the tent (I could hear it breathing right by my face, on the other side of the nylon separating our sleeping space from the big, wide world), snuffled a bit, then walked off. Raccoon? Bear?  Because our site was heavily covered with pine needles, we were unable to find tracks the next day to help with its identification.  But…something scared the moose.
Dawn the next morning was so cool that it was difficult to pull ourselves out of the warmth of each other and the sleeping bags. As our last morning, though, it was no time for sleeping in!
The morning was spectacular. We saw the sun rise over the hill, mist rose up from the water, the lake was calm, magic light infused everything we looked at. This was the morning I had waited for!
We were in the canoe shortly after the sun peeked its head up over the hill. The mist was not going to last, lighting and wind could not have been more perfect. Time to find more moose! Hopefully still waters would make them easier to shoot.
After our morning exploration, we were once again back at our campsite. No moose footage, but a wonderful morning nonetheless. Coffee, lunch, then time to break camp and pack up so that we would be ready for our pickup. Instead of rushing around to break camp first thing in the morning and beginning to head back, we had been able to enjoy the first flat water of the trip and paddle through mist and magic. It was worth the extra cost to have been able to canoe the river once more and enjoy the first warm day of the weekend. Next trip this way we will probably travel to our campsite by taxi so that we have more time and energy to spend where it counts most — photographing and filming wildlife (my next agenda is to get good loon footage, as well as better moose footage, without signs of ticks). And I didn't want to "kill" my fellow. If that little luxury will make him more inclined to come again, then it's worth it!
Notes about wilderness camping:
As mentioned above, I consider interior camping in Algonquin Park as luxury wilderness camping, as each site has a fire pit and a latrine. This doesn't mean you shouldn't be prepared, plan and know what you are doing. The Friends of Algonquin Park have produced an amazing map that not only shows where all the campsites and portages are, but it gives information about the areas and gives important camping information. It tells you how to hang your food, how to consider packing, as well as other tremendously useful things that will help you get the most out of your camping experience.
You don't want to overpack, but you do want to be sure to bring what you need. When you are outdoors, you want to be protected from the cold and the rain. You need food and water. Pack with layers in mind. If it's cold, you add on the layers; when it warms, you just take them off. Throw in some light gloves, a hat and scarf just in case the weather is cooler than predicted. Make sure you have a raincoat and consider rain pants. Take an extra pair of shoes if the ones you are wearing are not waterproof. If it's cold or wet, you want to be proactive about preventing hypothermia. If you are away from cell phone reception so can't call for help, you need to be as prepared as possible. Take a first aid kid, waterproof matches, common sense. Don't assume that any gear you buy is waterproof.
I mentioned above about animals walking through our site at night — you're in the wilderness, this happens. And is why you do want to hang your food pack, store any cooler away from your tent and NEVER bring food into your tent. If you look at human/animal problems in Algonquin Park, you will be reassured about your safety, but you need to assume responsibility for your well-being. Also keep in mind that even a chipmunk walking by your tent can sound gigantic when you are inside your tent, particularly at night.
If you are unfamiliar with wilderness camping but want to try it, do it! Some planning can make your first trip amazing. Feel free to use a water taxi service to take you to your campsite if this is available – cater to your physical fitness level. Read the map I mentioned above. The key is being informed and prepared.
Push yourself as much as you want but be smart about it. For instance, if you are unused to paddling, it's a smart thing to pull over and take breaks as needed. If the water is rougher than you are comfortable with, pull over and take a break.
Bugs? What and how many depend on the season. Mosquito hats or jackets can make mosquito and blackfly seasons not a problem. Bug spray, wise choice of campsite can also be a tremendous help. Consider a campsite that is at least partially exposed to the breeze as it doesn't take much of a wind to keep bugs at bay.
If you are planning on shooting photos or video, make sure you are familiar with your gear before you leave and double-check that your camera sensors are dust-free. Make sure that all batteries are charged, keep in mind that colder weather will cause batteries to deplete more quickly and make sure that you turn off equipment that isn't in use to help preserve battery power. If you have the extra cash, you can also check out various solar powered charging options. Also, if it is cold, keeping your spare batteries in inside pockets will help them keep their battery life.
The most important thing to remember: as prepared as you may be, life has a way of throwing curves at us. Don't let one of these ruin your adventure: embrace it, make the best of it, always making your safety your priority. All you need to enjoy yourself outdoors is to stay warm, dry, hydrated and fed. The rest is what you want to make of it.
For more information about Algonquin Park, check out the Friends of Algonquin Park site:
http://www.algonquinpark.on.ca/
The Ontario provincial government site is here: