Drag to move through the pano.
Walk to the very end of Leslie Spit, hang a right and this is your view. At the moment, it means walking through a lane of snow that up until now has only been visited by some on cross country skis, which means that snow can be deep and one needs to watch one's footing – there is no cleared path to walk. For goodness sake, be careful along the edge: all is not what it seems and one could easily go through "solid" snow and ice and find oneself wedged in some of the concrete pieces lining the shore here, not to mention how tricky the icy surface itself can be to navigate. Keeping that in mind, it is a lovely place to view the slushy divide that separates the solid ice from the ice-free part of the lake here, it is a good place to see the amazing ice coating the vegetation along the lake and it's a pretty view of the city skyline with the trees of the Toronto Islands in the foreground. The sound of the slushy ice and flocks of ducks is an added bonus.
The difference an hour makes. The earlier shot was taken from the white point behind the trees to the right in the image.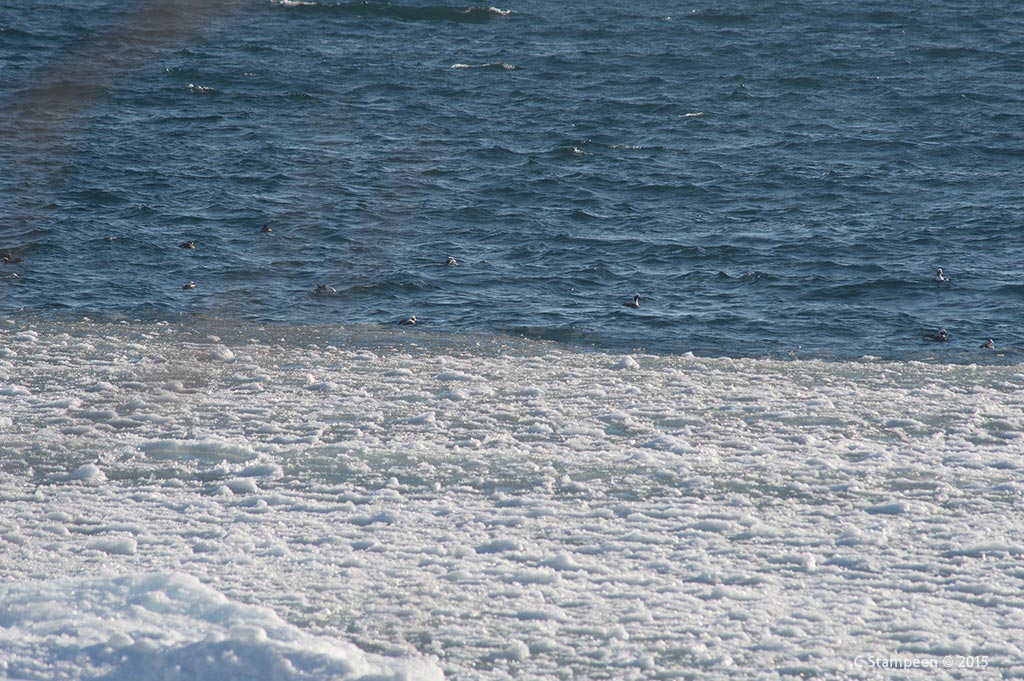 Various species of ducks are hanging out at the edge of the slush.
The panos were taken with 12-14 images stitched together with Photomerge in Photoshop.