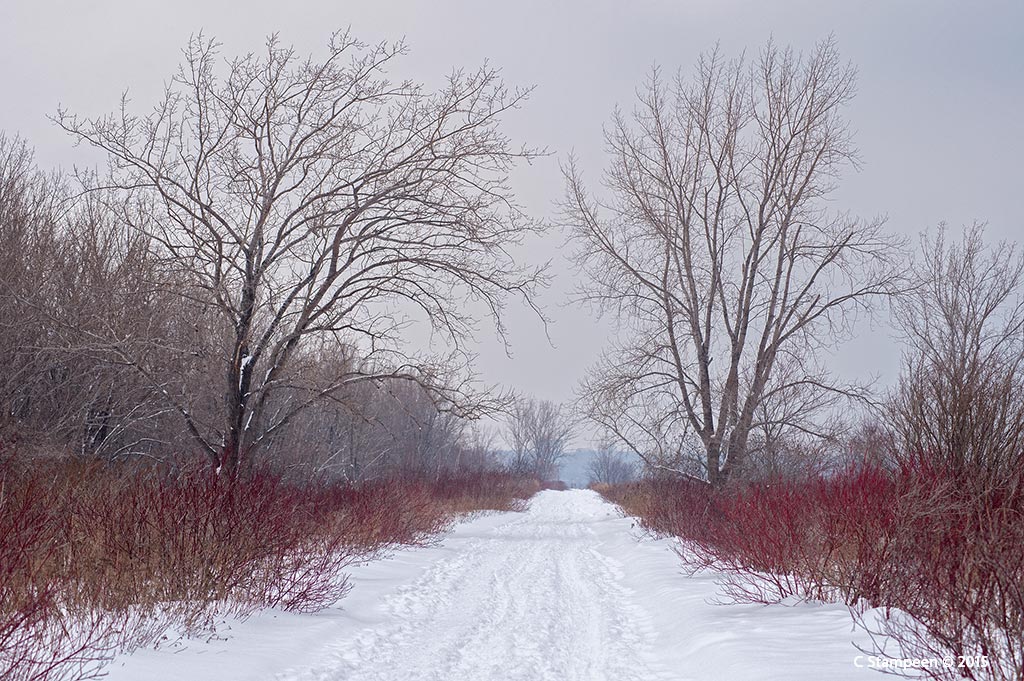 I haven't been to the Spit since we left for Nova Scotia last summer, so it was about time.  I didn't want to go this winter until we got some snow to make it pretty. Then when we finally got some snow that stuck, I wanted to give the water a chance to freeze up.  After a number of snowfalls, weeks of temperatures in the negative double digits and seeing some ice forming along the lake by us, I thought it was time to check things out.
The Spit, aka Leslie Spit, aka Thommy Thompson Park, is only open to the public on weekends and holidays. This weekend, well, no blue skies to cast interesting lavender and blue shadows across snowscapes and not enough sun to give interesting lighting for very long, but Sunday began with snow, which has its own charm.  It didn't last for too long, and though the sun fought for a while, giving a magical diffuse lighting, eventually, it lost the battle and the cloud cover became heavier. By the time I headed out of the park, the snow had resumed and I had switched from shooting at 200 ISO to 1600 ISO. THAT is how a photographer measures the density of clouds.
It was pretty much me with a few other hikers near the beginning of the park, a fair number of cross country skiers that were all through the spit … and a few intrepid souls on bicycles.
I hiked around for about 4 hours in the snow.  Great exercise, good to be away from the computer, and I found a few things at which to point my camera. Like there was any doubt.