If you're looking to build infrastructure for multiple edit suites to edit 4K video, you going to need some network speed. What will you need? Let's find out.
At 30 fps common 4K workflows will typically use the following codec:
4K DCI REDcode 5:1  – 81.32 MB/sec
4K UHD ProRes 422 HQ 10-bit  – 102.95 MB/sec
4K UHD Avid DNxHR HQX 12-bit – 97.39 MB/sec
To have multiple workstations able to edit 4K video over a network, the server storing the media must be able to read and write the media fast enough for all the workstations, and the network must have enough bandwidth to handle all the workstations. If you're a small Indy Filmmaker, you'll need something like this: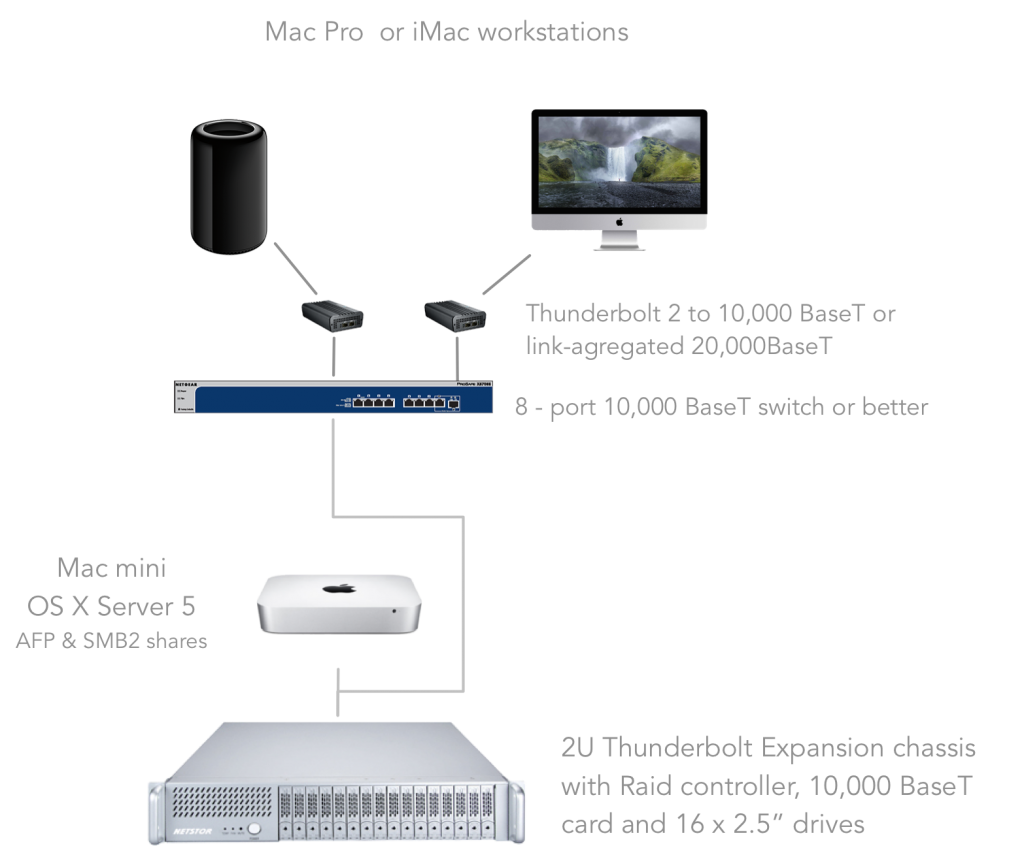 Here I have a Mac mini running OSX Server which acts as a file server for the edit suites. It provides authenticated shares so you can manage what media each editor has access to.
Here I am using a 2U expansion chassis, but we could easily use a 3 or 4U unit if storage is required. The 2U unit here can use 2 or 3Tb 2.5″ SATA drives, or SSD drives up to 4Tb. Filling the 16 bays with 3Tb drives is the most economical approach, giving 45 Tb of storage in Raid5. The speed of this Raid is ~ 1,800Mb/sec, approaching the limit of Thunderbolt2.
By using Link-aggregation in Mac OSX in combination with a Dual port 10GbE card, we can create a fairly economical server that can serve media nearly as fast as 20GbE, and hence handle 12 to 16 workstations editing 4K.
If you're an Indy Filmmaker in the Toronto area and need help setting up your Post infrastructure, I can help.
To learn more, read my article about Mac mini shared storage for 4K edit suites.
Contact: info@girafxmedia.com