Getting the most from your Apple TV will show you how to take control of your Apple TV and use it as a media hub.
So you've heard the buzz about the new Apple TV with Siri voice commands. Is this little box the future of TV? I suspect it will become so very soon, but in the meantime there's a lot you can do with this amazing little black box, probably a lot more than you realize.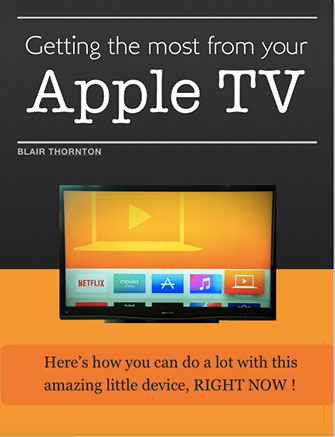 Personally, I've been a fan of this device from day 1, and I'm on my 5th Apple TV device. This is a concentrated book of just what you need to know to extract the most out of your Apple TV 4th Generation (and 3rd too) without having to read 200 pages.
It's full of useful troubleshooting tips, and contains quick-start videos for setting up your Apple TV to your home receiver or TV.
I also show you how to quickly convert and add Metadata to your own content for your iTunes library so it's easy to display on the Apple TV. This is the real power of Apple TV – the ability to put digital content on your TV.
Apple has designed a lot of potential into this little box. Expect to see TV channels as Apps in the future, where you can subscribe just to the channels you want.
In the future, we'll be able to search content from all sources with Siri. For now we're restricted to Netflix, Hulu and CBS, but you should expect Siri to be able to search your iTunes library and other content providers in the near future.
You can buy Getting the most from your Apple TV now on the iBook store.