I was reading this post on the RED user forums about bus-powered offloads of   a REDmag. I immediately thought we can even improve on that solution.

If you're in the field and have no power outlets for external drives, you need bus power drives to offload your daily footage.
The Lacie 1TB Rugged USB 3.0 Thunderbolt Series Hard Drive is a bus powered case and  drive, but its internal 1Tb drive SATA drive gets a mere 110Mb/sec performance. Basically maxing out the SATA speed of the drive.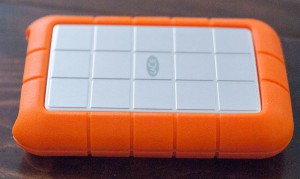 If we overlook the warranty and consider this is a superb bus powered Thunderbolt case, it is prime for customization.  Remove the orange rubber casing and metal clasps to uncover the SATA drive.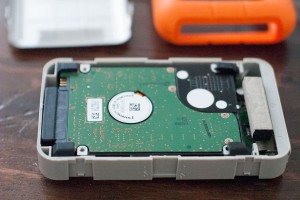 The Thunderbolt port is capable of transfer rates up to 10Gb/s, but is limited to 110Mb/sec because of the 2.5″ internal SATA drive. All we need to do is replace this drive with a fast 6G professional-grade SSD drive, like the the 480Gb OWC Mercury EXTREME Pro 6G SSD.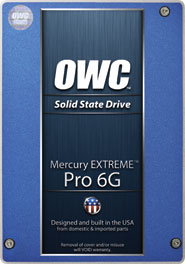 The OWC Mercury EXTREME Pro 6G drive is a FAST 527Mb/sec professional-grade SSD with 5 year warranty, perfect!  Replace the 1Tb drive in the Lacie USB 3.0 Thunderbolt case and re-assemble the case.
If you're offloading from a RED STATION RED MINI-MAG USB3 model to your new customized Lacie SSD case, you'll be able to unload a full 512Gb RED MINI-MAG in 15.5 minutes, nearly maxing out the USB3 data rate of 5 Gbit/s of the RED MINI-MAG!!
If you're still offloading camera SSD's using Firewire 800, the same  512Gb RED MINI-MAG would take 1 hour and 56 minutes.
Even if you offload just 1 full 512 Mb SSD per day onsite, and then transfer that data to 1 ultra fast RAID back on set, that's a saving of (2 x 116 min.) – (2 x 16 min.) = 200 min.
If you're a Digital Imaging Technician (DIT),  you can't afford NOT to minimze transfer times. Don't know about you, but I'd rather spend 32 minutes transferring data rather than 3.8 hours!